The Preliminary study of the Clinical outcome of using the PCSO-524 polyunsaturated fatty acid compound (Antinol) in the treatment of Canine Osteoarthritis and degenerative spinal diseases

Thai Journal Vet Med. 2012. 42(3): 311-317.

Abstract
The clinical outcome of PCSO-524 application in the treatment of canine osteoarthritis and spinal disorder was studied at the Small Animal Teaching Hospital, Chulalongkorn University.
Eighty-four dogs were included in our study. Thirty-one dogs showed signs of osteoarthritis (OA) in both hip joints and shoulder joints;
33 dogs had OA in stifle joints from cranial cruciate ligament rupture;
and 20 dogs had neurological signs of the cauda equina syndrome.
All affected dogs were treated by 50 mg/ 10 kg of PCSO-524, PO for twelve weeks.
Neurological grading, lameness scores and neurological examinations were evaluated before and after the administration of PCSO-524 for two and four weeks. Radiographic examinations were taken before and after the administration of PCSO-524 for four weeks.
The results revealed that a large percentage of dogs experienced improvements in clinical lameness and owner preference although only a few dogs had better radiographic findings.
Some of the dogs showed worse radiographic findings, whereas the clinical signs improved.
Although the percentages of the improved clinical lameness between the two OA patient groups were high, but were not statistically and significantly different, the radiographic OA findings improved more in patients that had OA in the hip and shoulder joints than in patients that had OA in the stifle joints.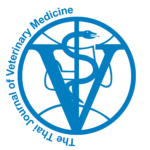 Keywords: dogs, osteoarthritis, PCSO-524, treatment
*Correspondence: skumpana@gmail.com