Antinol® Latest Studies
Sorted by recent
Filter Studies by Smart Tags
Bone & Joint
Cardiovascular
Cat
Dog
EAB 277™
Efficacy
Exotic Pet
Immunology
Neuro & Behavior
Ophthalmology
Oral
Rabbit
Renal
Respiratory
Rodent
Safety
Skin
UTI
Smart Search

www.antinol.com/studies
The Summary of the clinical researches and publications on www.antinol.com/studies
There has been several clinical trials looking at efficacy in canine osteoarthritis of the hip, stifle, and shoulder joints, as well as its effect in the post-surgical treatment of animals undergoing joint surgery.
The Executive Summary also includes the section about Safety in Canine, Human OA studies, Research in laboratory animals, and In vitro research.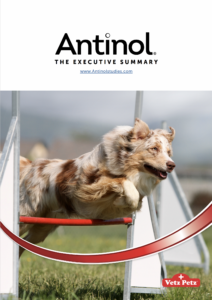 www.antinolstudies.com
The information of PCSO-524® (New Zealand Green-lipped mussel extract) compared to mussel powder in production, quality, ingredients, potency, including the list of scientific journal and case studies.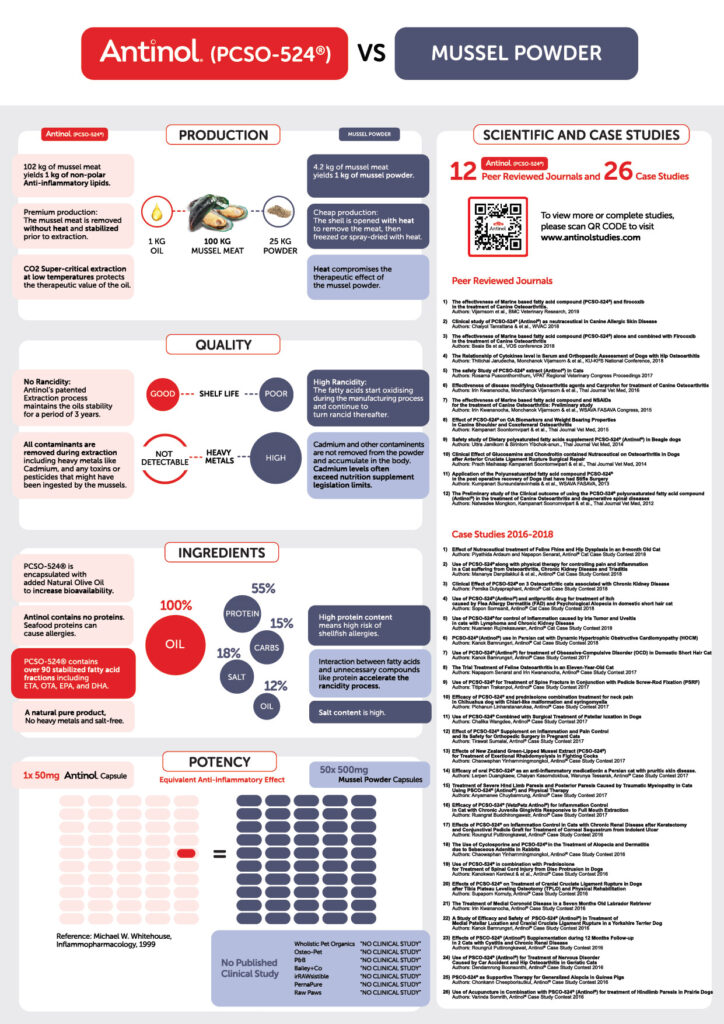 Antinol® Cases Study 2017
Bone fracture is common in stray cats. It can cause severe pain and requires surgical treatment.
Use of non-steroidal anti-inflammatory drugs (NSAIDs) or opioid drugs is common for control of pain from bone fracture. However, adverse effects are frequently reported for NSAIDs and opioid use.
Objective of this study is to evaluate anti-inflammatory and pain-relieving effects and safety of PCSO-524® (Antinol®) for bone surgery in pregnant cats.

Antinol® Cases Study 2017
A 3 years old domestic short hair cat had shown behavioral disorder after castration 4 months ago.
The clinical signs were consistent with obsessive-compulsive disorders (OCD).
Pathological examination found edema of epidermis andinfiltration of mature mast cells in hair follicle. Treatment with PCSO-524® (Antinol)® for 180 days had shown that the misbehavior was improved due to decreased pain and skin inflammation. Healthier coat and skin appearance was noticed after 30 consecutive days of PCSO-524® (Antinol®) intake. Pathological follow-up showed less inflammation of epidermis and decreased mast cells infiltration.
It was shown that PCSO-524® (Antinol®) could reduce pain and inflammation that caused anxiety and consequently OCD in cats. Additional effects included antihistamine, antiallergy, and skin neurishing.
Male Yorkshire terrier dog aged 7 years weight 2.5 kg suffered from lameness of left Hind limb.
Examination found medial patellar luxation of grade 3 and chronic cranial cruciate ligament rupture.
PCSO-524® (Antinol®) 100 mg per day, double size of recommended dose for dogs weighed less than 20kg, was prescribed.
Examination of lameness score and pain on palpation showed improvement after PCSO-524® (Antinol®) treatment. Radiographic images taken before and after 45 days treatment with PCSO-524® (Antinol®) did not find progress of the lesion.
Hematological and biochemistry parameters after 45 days treatment with PCSO-524® (Antinol®) indicated that the medication was safe to use.

Thai J Vet Med. 2014. 44(4): 505-511
A randomized complete blocked design was assigned to 40 healthy Beagle dogs aged between 1 to 3 years old. All dogs were separated into 4 groups, each of which had 5 males and 5 females.
Adaptation and test periods were of 2 and 8 weeks duration, respectively.
Four dietary treatments were composed of basal diet plus 20 empty capsules as placebo (negative control), basal diet plus 2 (the recommended dose), 6 (3 times the recommended dose) and 20 capsules (10 times the recommended dose) of n-3 PUFAs (PCSO-524®: Antinol®).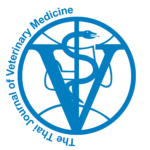 VPAT Regional Veterinary Congress Proceedings 2017
Chronic pain is commonly caused by degenerative disease, which is under diagnosed in cats.
PCSO-524 is an extract of Perna canaliculus, a known source of Omega-3 polyunsaturated fatty acids (PUFAs) with anti-inflammatory properties. Lipids extracted from the New Zealand green-lipped mussel (NZGLM) contain a complex mixture of mainly phospholipids (PL, 57-79%), triglycerides (TG, 10-25%), free fatty acids (FFA, 7-12%) and sterols (ST, 12-18%)
PCSO-524 is a source of omega-3 polyunsaturated fatty acids with anti-inflammatory properties commonly used to treat osteoarthritis in human beings and dogs.
The purpose of this study was to study the effects of PCSO-524 extract on vital signs, completed blood count, and blood chemistry in clinically-healthy normal cats.

Updated Study Topics
New researches and publications related to PCSO-524® and its result in clnical test submitted by veterinarians on the global conferences every year and the data keeps growing with more studies conducted
Discover More Studies
Click to see the digital library