Clinical study of PCSO-524 (ANTINOL™) as neutraceutical in canine allergic skin disease

Oral Presentation at The World Veterinary Congress WVAC 2018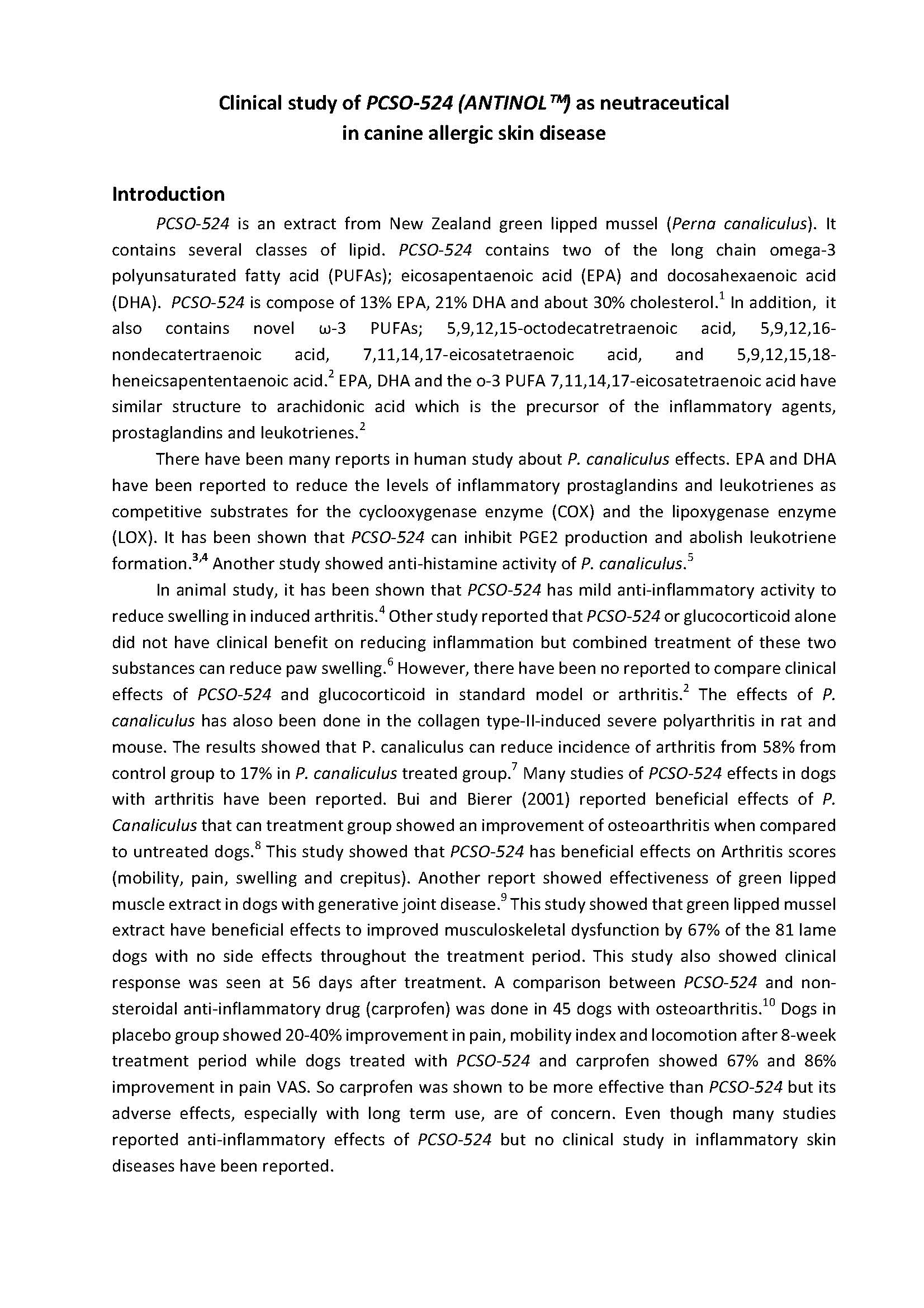 Executive Summary
This study included 31 allergic dogs with chronic pruritis with other skin diseases excluded.
Dogs were split into 3 treatment groups based on degree of pruritis, distribution, extension of the lesions and skin and coat condition;
Group 1: mild,
Group 2: moderate,
and Group 3: severe.
All dogs received PCSO-524 loading dose 10 mg/kg q12hr PO for 2 weeks followed by a maintenance dose of 10 mg/kg q24hr PO.
All dogs were evaluated at 2, 4, 8, 12 and 16 weeks for clinical response.
The assessment made by the owners (PVAS Score) and Vets (CADESI-03 score).
The results demonstrated that PCS0-524 had beneficial effects on improvement in skin and coat condition and a reduction in PVAS score in Group 1. Similarly, vet evaluation revealed greater reduction in pruritic score in Group 1 (50%) with less effects in Group 2 (44.44%) and Group 3 (40%).
The results of this study suggested PCSO-524 had beneficial effect in atopic skin allergy with a greater effect in mild cases.
The effect was less in more severely affected atopic dogs, probably due to  the severe degree of inflammation they experienced.
PCSO-524 may be used as treatment of canine atopic dermatitis.