Effects of Dietary Polyunsaturated Fatty Acid Supplement on Healthy Beagle Dogs

Thai J Vet Med. 2014. 44(4): 505-511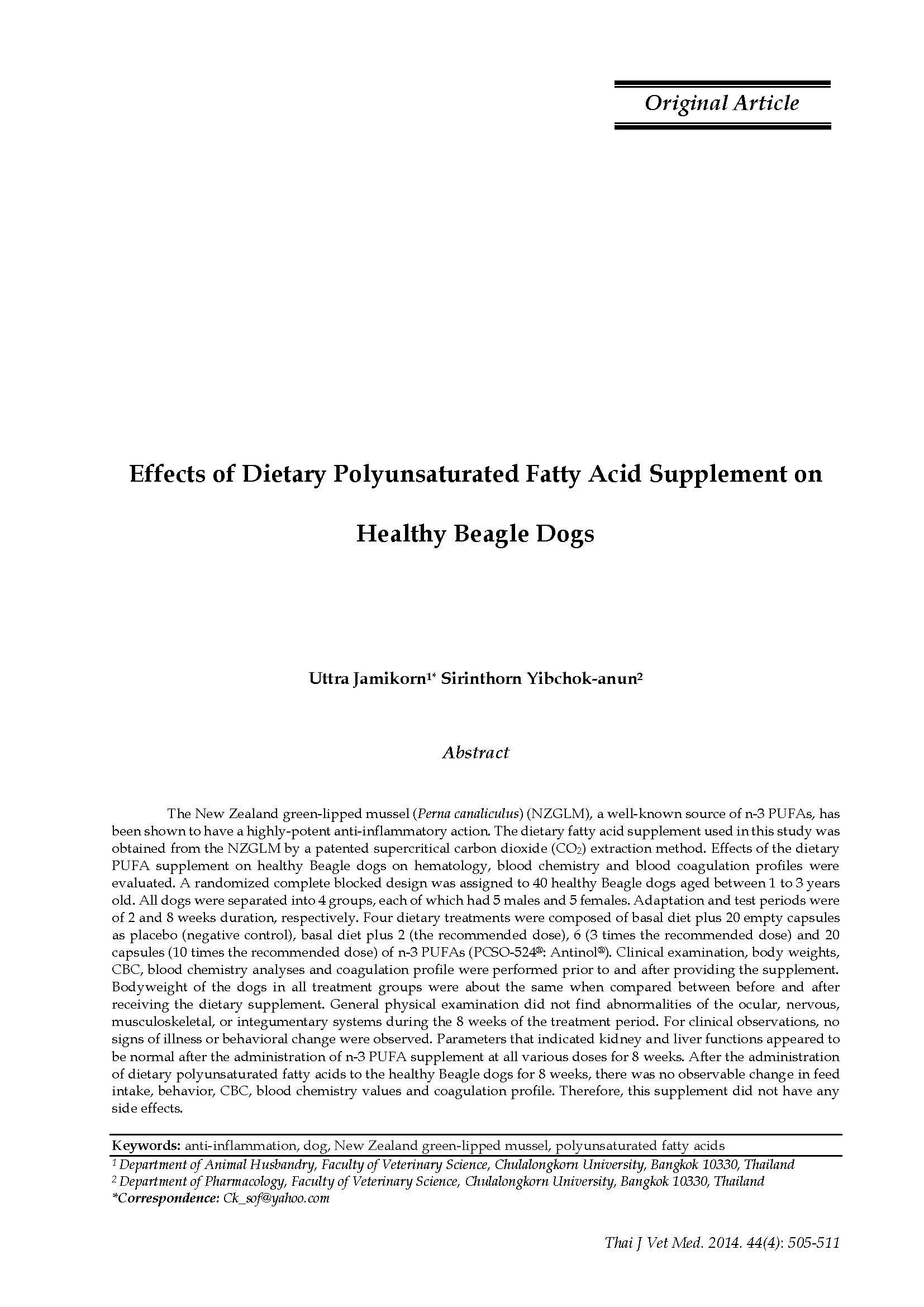 Abstract
The New Zealand green-lipped mussel (Perna canaliculus) (NZGLM), a well-known source of n-3 PUFAs, has been shown to have a highly-potent anti-inflammatory action.
The dietary fatty acid supplement used in this study was obtained from the NZGLM by a patented supercritical carbon dioxide (CO2) extraction method. Effects of the dietary PUFA supplement on healthy Beagle dogs on hematology, blood chemistry and blood coagulation profiles were evaluated.
A randomized complete blocked design was assigned to 40 healthy Beagle dogs aged between 1 to 3 years old. All dogs were separated into 4 groups, each of which had 5 males and 5 females.
Adaptation and test periods were of 2 and 8 weeks duration, respectively.
Four dietary treatments were composed of basal diet plus 20 empty capsules as placebo (negative control), basal diet plus 2 (the recommended dose), 6 (3 times the recommended dose) and 20 capsules (10 times the recommended dose) of n-3 PUFAs (PCSO-524®: Antinol®).
Clinical examination, body weights, CBC, blood chemistry analyses and coagulation profile were performed prior to and after providing the supplement.
Bodyweight of the dogs in all treatment groups were about the same when compared between before and after receiving the dietary supplement.
General physical examination did not find abnormalities of the ocular, nervous, musculoskeletal, or integumentary systems during the 8 weeks of the treatment period.
For clinical observations, no signs of illness or behavioral change were observed.
Parameters that indicated kidney and liver functions appeared to be normal after the administration of n-3 PUFA supplement at all various doses for 8 weeks.
After the administration of dietary polyunsaturated fatty acids to the healthy Beagle dogs for 8 weeks, there was no observable change in feed intake, behavior, CBC, blood chemistry values and coagulation profile. Therefore, this supplement did not have any side effects.
Keywords: anti-inflammation, dog, New Zealand green-lipped mussel, polyunsaturated fatty acids
*Correspondence: Ck_sof@yahoo.com