Preliminary Study on Treatment Outcomes and Prednisolone Tapering after Marine Lipid Extract EAB-277 Supplementation in Dogs with Immune-Mediated Hemolytic Anemia

MDPI https://www.mdpi.com/2306-7381/10/7/425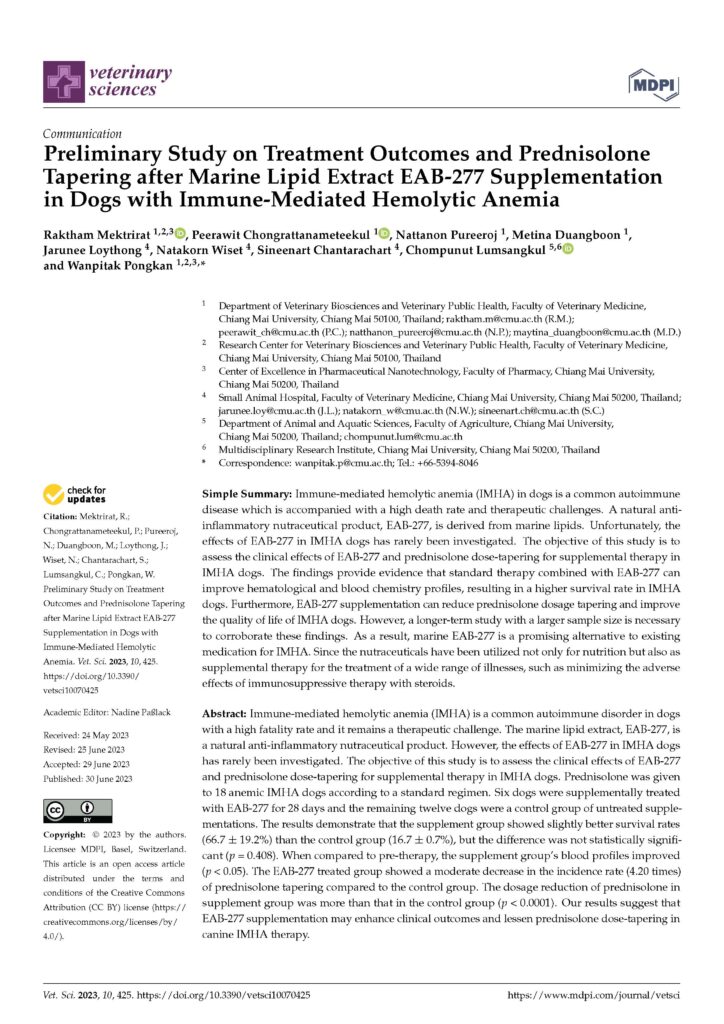 Simple Summary:
Immune-mediated hemolytic anemia (IMHA) in dogs is a common autoimmune disease which is accompanied with a high death rate and therapeutic challenges. A natural antiinflammatory nutraceutical product, EAB-277, is derived from marine lipids. Unfortunately, the effects of EAB-277 in IMHA dogs has rarely been investigated. The objective of this study is to assess the clinical effects of EAB-277 and prednisolone dose-tapering for supplemental therapy in IMHA dogs. The findings provide evidence that standard therapy combined with EAB-277 can improve hematological and blood chemistry profiles, resulting in a higher survival rate in IMHA dogs. Furthermore, EAB-277 supplementation can reduce prednisolone dosage tapering and improve the quality of life of IMHA dogs. However, a longer-term study with a larger sample size is necessary to corroborate these findings. As a result, marine EAB-277 is a promising alternative to existing medication for IMHA. Since the nutraceuticals have been utilized not only for nutrition but also as supplemental therapy for the treatment of a wide range of illnesses, such as minimizing the adverse effects of immunosuppressive therapy with steroids.
Abstract:
Immune-mediated hemolytic anemia (IMHA) is a common autoimmune disorder in dogs with a high fatality rate and it remains a therapeutic challenge. The marine lipid extract, EAB-277, is a natural anti-inflammatory nutraceutical product. However, the effects of EAB-277 in IMHA dogs has rarely been investigated. The objective of this study is to assess the clinical effects of EAB-277 and prednisolone dose-tapering for supplemental therapy in IMHA dogs. Prednisolone was given to 18 anemic IMHA dogs according to a standard regimen. Six dogs were supplementally treated with EAB-277 for 28 days and the remaining twelve dogs were a control group of untreated supplementations. The results demonstrate that the supplement group showed slightly better survival rates (66.7 ± 19.2%) than the control group (16.7 ± 0.7%), but the difference was not statistically significant (p = 0.408). When compared to pre-therapy, the supplement group's blood profiles improved (p < 0.05). The EAB-277 treated group showed a moderate decrease in the incidence rate (4.20 times) of prednisolone tapering compared to the control group. The dosage reduction of prednisolone in supplement group was more than that in the control group (p < 0.0001). Our results suggest that EAB-277 supplementation may enhance clinical outcomes and lessen prednisolone dose-tapering in canine IMHA therapy.
1. Introduction
Immune-mediated hemolytic anemia (IMHA) is a common autoimmune disorder associated with a considerably high complication and fatality rate in dogs [
1
]. In the past few years, the incidence of canine IMHA has been reported as approximately 1 in 10,000 in certain breeds [
2
]. Primary idiopathic IMHA develops spontaneously in dogs and is associated with certain breeds, whereas the induction of secondary IMHA has also been reported after vaccinations, antibiotic administrations, neoplasm, and infections [
3
]. The immunopathogenesis of IMHA is believed to be linked to anti-erythrocyte autoantibodies [
4
]. The systemic inflammatory response and cytokine dysregulation has been documented in dogs with IMHA [
5
,
6
]. In addition, this life-threatening disorder is characterized by an auto-inflammatory process, leading to the severe intravascular and extravascular immune-mediated destruction of erythrocytes.
IMHA remains a therapeutic challenge in veterinary practice. Several papers reporting successful chemotherapeutic clinical trials of the immunosuppressive drugs in the treatment of canine IMHA have thus been published [
7
,
8
]. Corticosteroids are generally used as a first-line immunosuppressive therapy for canine IMHA by non-specific immune suppressive effects for the control of autoimmunity targeting of erythrocyte antigens [
8
,
9
]. However, the steroid-medication-related adverse drug reactions resulting from immunosuppressive use and the prolonged therapeutic period are well documented [
10
]. In an endeavor to taper off the glucocorticoid, a therapeutic regimen with safety and efficacy profiles of routine anti-inflammatory supplementation combined with immunosuppressive glucocorticoids in canine patients with IMHA was not strongly recommended.
A marine lipid extract, EAB-277, which is a potent blend of two marine lipid concentrates including the lipid fraction extracted from greenshell mussels (
Perna canaliculus
), and a high-phospholipid extract from krill (
Euphausia superba
). This product was developed from PCSO-524, the patented dietary supplement, which contains various long-chain polyunsaturated fatty acids (PUFA) including eicosapentaenoic acid (EPA), docosahexaenoic acid (DHA), and eicosatetraenoic acid (ETA) [
11
]. The unique combination of omega 3 PUFAs affecting lipoxygenase (LOX) and cyclooxygenase (COX) pathways on reducing the production of leukotrienes and prostaglandins has been demonstrated [
12
]. Increasingly, the functional fatty acids from marine lipid extract are a significant bioresource and have various veterinary applications including the treatment of osteoarthritis, degenerative spinal diseases, and patellar luxation repair [
13
,
14
,
15
]. Unfortunately, this dietary supplement has never been evaluated for use with systemic inflammatory reactions, particularly IMHA.
Therefore, the primary aim of the present study was to evaluate the efficacy of supplementation with a marine lipid extract EAB-277 combined with standard immunosuppressive therapy on treatment outcomes in dogs with IMHA. We hypothesized that supplementation with the marine lipid extract, EAB-277, would significantly reduce prednisolone dosage, improve clinical parameters, and increase the survival rate in IMHA patient dogs compared to standard therapy.
2. Materials and Methods
2.1. Chemical Analysis of the Marine Lipid Extract EAB-277
The extraction methods of greenshell mussels and krill were first stabilized and freeze-dried. The natural ingredients were isolated by the supercritical fluid extractor using a supercritical carbon dioxide (SC-CO2). Reference quantification of major lipid composition was conducted by the commercial food chemical Laboratory, using the Official Methods of Analysis (OMA) program of Association of Official Analytical Chemists (AOAC), including AOAC 948.15 OMA and AOAC 963.22 OMA online.
2.2. Animal and Ethical Approval
The clinical study was a cross-sectional investigation that included owned dogs at the Small Animal Hospital, Faculty of Veterinary Medicine, Chiang Mai University. The owners of the animals participating were required to provide informed consent before procedure was performed. Eighteen client-owned dogs with IMHA were enrolled. The dogs remained under the care of their owners during the study. The experiment followed the protocols authorized by the Animal Ethics Committee of the Faculty of Veterinary Medicine, Chiang Mai University. (Ethic Permit No. S15/2563).
2.3. Criteria for Case Selection
All potential study dogs underwent a clinical screening including medical history, physical examination, hematological examination, serum biochemical analysis, rapid osmotic fragility tests (ROFTs). The saline agglutination test was used to determine the presence of true erythrocyte auto-agglutination. Direct antiglobulin tests (DAT) were conducted to establish a diagnosis of IMHA. Eligibility for inclusion included dogs with anemia (hematocrit, Hct < 35% and hemoglobin, Hb < 11.9 g/dL) and hyperbilirubinemia. They must also have had one or more of the following criteria: the presence of autoagglutination and a positive saline agglutination test; the presence of significant numbers of spherocytes on a blood smear (8–20 spherocytes per 100× magnification field); the positive ROFT and the positive DAT [
16
]. Dogs with IMHA were excluded if examinations revealed an underlying cause for hemolytic anemia. Furthermore, any dogs who had received any blood product or immunosuppressants for more than 48 h were also excluded from the clinical study.
2.4. Drugs and Dosing Procedures
The dogs with IMHA who met the inclusion criteria were randomly assigned to either glucocorticoid alone (control group, 
n
 = 12), or glucocorticoids and EAB-277 (supplement group, 
n
 = 6). All enrolled dogs, in both the control and supplement groups, were treated with immunosuppressive dosages of prednisolone (2–4 mg/kg PO q12 h) [
10
]. The dogs with IMHA in the supplement group, designed as an open-labeled test, were treated with EAB-277 at initial dosage of 100 mg/10 kg body weight PO once daily for 14 days followed by maintenance dosage of 50 mg/10 kg body weight PO once daily for 14 days.
2.5. Clinical Monitoring and Data Collection
The clinical data were obtained from the medical records of selected IMHA animals. All animals were closely observed periodically at 0, 7, 14, 21, and 28 days for any clinical outcomes and their survival performance. For serum biochemical analysis, blood was drawn from the cephalic vein, and the sera were separated via centrifugation at 2200× 
g
 for 15 min (Kokusan H-19α, Kokusan, Saitama, Japan), after stabilization at room temperature for 30 min. Blood biochemical parameters were measured using an automated BX-3010 analyzer (Sysmex, Kobe, Japan). Canine ethylenediamine tetraacetic acid (EDTA) whole blood was collected and the complete bloods counts were measured using an automated hematology analyzer (BC-5300 Vet, Mindray, Shenzhen, China). The in-saline auto-agglutination test was conducted by mixing of EDTA blood and 0.9% normal saline solution (NSS) on a smear slide. The agglutination of erythrocytes was observed macroscopically and microscopically [
17
]. The degree of spherocytosis was carried out by counting the number of spherocytes in 10 different oil immersion fields (100×), followed by calculating the mean value per HPF. The ROFT for spherocytosis was also evaluated using 0.9% and 0.55% NSS [
18
]. The erythrocytes were washed three times with 0.9% normal saline before the direct antiglobulin test with a commercial reagent, according to the manufacturer's instructions (MP Biomedicals, Solon, OH, USA).
2.6. Calculation of Tapering Regimen
Tapering of the initial dose of prednisolone was performed when clinical improvements were observed and Hct had been stable at >30% for 2 weeks after commencing treatment. After response to treatment, the prednisolone dosage is gradually tapered by 25%. The size of daily dose was calculated after tapering the dosage. The rate of dose-tapering in dogs in the supplement group compared with that of in the control group was also analyzed.
2.7. Statistical Analysis
For the primary endpoint (28-day all-cause death), the standard protocol of glucocorticoid was compared with the supplementary protocol (glucocorticoid and EAB-277) via Kaplan–Meier survival analysis and the log-rank test for significance. The Shipiro–Wilk test and normal Q-Q plots were used to ensure the normal distribution in the continuous variable distribution. Descriptive statistics, including numbers, percentages, proportion, range, mean with standard deviation, and median with range of interquartile have been used to describe the data. Differences between experimental groups in hematological and blood biochemical parameters were further assessed using Student's t test or Mann–Whitney U test. The paired 
t
-test or Wilcoxon signed rank test was used to compare between pre- and post-therapy within group. The statistical significance of tapering rate for the different groups was determined from a one-tailed standard normal distribution table using the Z statistic. The statistical significance of variable differences was determined by analyzing whether the bicaudal probability of occurrences owing to chance (error type I) was less than 5% (
p
 < 0.05). The R statistics (RStudio, Boston, MA, USA) was carried out. Commercial GraphPad Prism software (San Diego, CA, USA) was used for graph generation.
5. Conclusions
Standard therapy supplemented with EAB-277 could improve hematological and blood chemistry profiles, resulting in a tendency towards an increased survival rate in dogs with IMHA. Moreover, EAB-277 supplementation can also attenuate prednisolone dose-tapering and increase the quality of life of IMHA dogs after 28 days of medication. However, a longer-term investigation with a larger sample size is required to confirm these outcomes.
Author Contributions
Project administration, funding acquisition, resources, R.M.; supervision, C.L.; conceptualization, R.M. and W.P.; methodology, R.M., N.P. and M.D.; investigation, R.M., N.P., M.D., J.L., N.W. and S.C.; data curation, validation, formal analysis, software, visualization, writing—original draft preparation, R.M. and P.C.; writing—review and editing, R.M. and W.P. All authors have read and agreed to the published version of the manuscript.
Funding
This research was partially funded by Pharmalink International Co., Ltd., grant number FSP02032020B.
Institutional Review Board Statement
The animal study was reviewed and approved by the Ethics Committee of the Laboratory Animal Center, Faculty of Veterinary Medicine, Chiang Mai University (Ethical Number: S15/2563). Written informed consent was obtained from the owners for the participation of their animals in this study.
Informed Consent Statement
Written informed consent was obtained for all participants involved in the study.
Data Availability Statement
The data supporting this study are available from the corresponding author upon reasonable request.
Acknowledgments
This research was partially supported by Chiang Mai University. The authors are thankful to the Research Center for Veterinary Biosciences and Veterinary Public Health and Center of Excellence in Pharmaceutical Nanotechnology, Chiang Mai University, Thailand for the facility and instrument support.
Conflicts of Interest
The authors declare that this study received funding from Pharmalink International Co., Ltd. The funder was not involved in the study design, collection, analysis, interpretation of data, the writing of this article, or the decision to submit it for publication.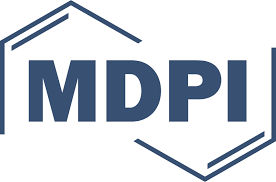 Read full text
EN