Antinol® Latest Studies
Sorted by recent
Filter Studies by Smart Tags
Bone & Joint
Cardiovascular
Cat
Dog
EAB 277™
Efficacy
Exotic Pet
Immunology
Neuro & Behavior
Ophthalmology
Oral
Rabbit
Renal
Respiratory
Rodent
Safety
Skin
UTI
Smart Search

Front. Vet. Sci., 01 February 2023 Sec. Veterinary Surgery and Anesthesiology Volume 10 - 2023 | https://doi.org/10.3389/fvets.2023.1033188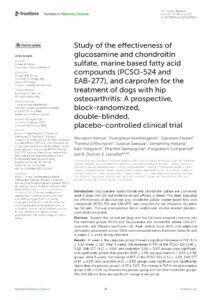 Canine tracheal collapse is a progressive disease in small breed dogs resulting from chronic inflammation of the tracheal mucosal lining. Polyunsaturated fatty acid EAB-277® is one of the nutraceuticals that can alleviate inflammation and oxidative stress. Heart rate variability (HRV) is a prognostic tool related to sympathovagal balance and oxidative stress level, which is widely used with cardiorespiratory diseases. However, the effect of EAB-277® on HRV in tracheal collapse dogs has rarely been investigated.
Introduction: Glucosamine hydrochloride and chondroitin sulfate are commonly used in dogs with OA, but evidence around efficacy is mixed. This study evaluated the effectiveness of glucosamine and chondroitin sulfate, marine based fatty acid compounds (PCSO-524 and EAB-277), and carprofen for the alleviation of canine hip OA pain. This was a prospective, block-randomized, double-blinded, placebo-controlled clinical trial.
Methods: Seventy-five owned pet dogs with hip OA were assigned randomly into five treatment groups: PCSO-524, Glucosamine and chondroitin sulfate, EAB-277, carprofen, and Placebo (sunflower oil). Peak vertical force (PVF) and subjective orthopedic assessment scores (OAS) were evaluated before treatment (week 0), and at weeks 2, 4, and 6 during treatment.
Results: At week 2, the carprofen group showed a significant increase in PVF (3.14 ± 5.33; mean ± SD). After 4 weeks, the increases in PVF of the PCSO-524 (3.90 ± 3.52), EAB-277 (4.17 ± 4.94), and carprofen (3.08 ± 5.87) groups were significant, and significantly greater than placebo (0.08 ± 1.90) and glucosamine (−0.05 ± 6.34) groups. After 6 weeks, the change of PVF in the PCSO-524 (4.14 ± 4.65), EAB-277 (4.45 ± 4.23), and carprofen (4.21 ± 6.52) groups were significant and significantly higher than the placebo group (−0.33 ± 3.65). The change in PVF in the glucosamine group (1.08 ± 5.49) lay between the placebo group and the other treatment groups. The OAS did not show any significant change in any group.
Discussion: PCSO-524 and EAB-277, but not glucosamine/chondroitin, resulted in significant improvements in PVF from baseline after 4 weeks, and 6 weeks, and to a similar degree to that seen with carprofen.

Updated Study Topics
New researches and publications related to PCSO-524® and its result in clnical test submitted by veterinarians on the global conferences every year and the data keeps growing with more studies conducted
Discover More Studies
Click to see the digital library