Antinol® Latest Studies
Sorted by recent
Filter Studies by Smart Tags
Bone & Joint
Cardiovascular
Cat
Dog
EAB 277™
Efficacy
Exotic Pet
Immunology
Neuro & Behavior
Ophthalmology
Oral
Rabbit
Renal
Respiratory
Rodent
Safety
Skin
UTI
Smart Search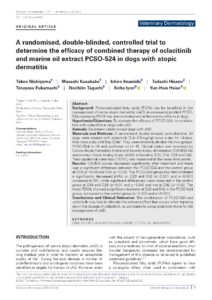 INTRODUCTION
Polyunsaturated fatty acids (PUFA) can be beneficial in the management of canine atopic dermatitis (cAD). A commercial product PCSO524 containing PUFA has demonstrated anti-inflammatory effects in dogs.
Hypothesis/Objectives:
To evaluate the efficacy of PCSO-524, in combination with oclacitinib in dogs with cAD.
Animals:
Seventeen client-owned dogs with cAD.
Materials and Methods:
A randomised, double-blinded, controlled trial. All dogs were treated with oclacitinib (0.4–0.6mg/kg) twice a day for 14days, then once a day until Day (D)42. They were randomly divided into two groups: PCSO-524 (n=9) and sunflower oil (n=8). Clinical status was assessed by Canine Atopic Dermatitis Extent and Severity Index, 4th iteration (CADESI-04) and pruritus Visual Analog Scale (pVAS) at baseline (D0), D14, D28 and D42. Trans epidermal water loss (TEWL) was measured at the same time points.
Results:
CADESI scores decreased significantly after treatment and there was a significant difference between the PCSO-524 and the control group at D28 (p=0.04) and D42 (p=0.03). The PCSO-524 group also demonstrated a significantly decreased pVAS on D28 and D42 (p<0.001 and p<0.001) compared to D0, while significant differences were observed in the control group at D14 and D28 (p<0.01 and p=0.04) and not at D42 (p=0.12). The mean TEWL showed a significant decrease at D28 and D42 in the PCSO-524 group, compared to the control group (p=0.002 and p<0.001).
Conclusions and Clinical Relevance:
The combination of PCSO-524 and oclacitinib may help to alleviate the rebound effect that occurs when tapering down the dosage of oclacitinib, as compared to using oclacitinib alone for the management of cAD.
KEYWORDS:
atopic dermatitis, essential fatty acids, oclacitinib, PCSO-524, rebound effect
Updated Study Topics
New researches and publications related to PCSO-524® and its result in clnical test submitted by veterinarians on the global conferences every year and the data keeps growing with more studies conducted
Discover More Studies
Click to see the digital library